Elemental Cloud Security Platform
Elemental Security Platform: cloud-native cybersecurity compliance SaaS
Bring automation to any cybersecurity risk and compliance initiative. On budget. On time. On scope.
Fast. Easy. Affordable. Fits any size organization in the Cloud or on-premise!
Do you have a cyber security compliance project to design from scratch and on a budget?
Already have a compliance project going, but do not know how to check or enforce compliance?
Are you doing a lot of manual coding and scripting?
Do you have too many environments and OS to bring to compliance?
How about dealing with continuous compliance assessments?
Elemental compliance automation and enforcement solution is here to help.
Elemental is bringing together transformative technology, flexible pricing, and customized support to deliver easy, fast, affordable compliance assurance projects that fit any size organization, any size project, any budget. We are delivering fast, innovative solutions to MSSPs, small and medium businesses, and large organizations with complex compliance needs.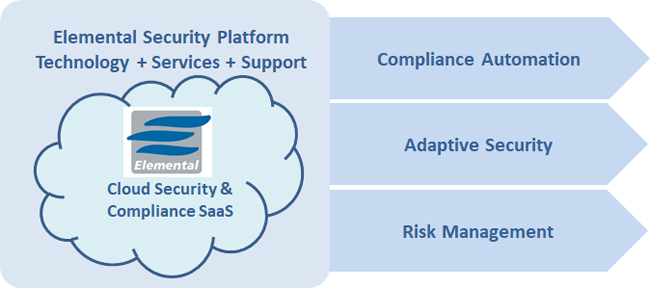 Fast. We design - you use!
Choose your compliance standard (PCI, NIST, HIPAA/HITRUST, etc) or security policy, the number of endpoint systems that need to be protected, the support and customization level. Download our lightweight ESP Agent to desktops, laptops, and servers - your custom-made security compliance policies will be ready to deploy and track within minutes. Move quickly through the poof of concept and discovery, then start demonstrating compliance right away! Use your browser to log into the ESP management console to fine-tune your policies or check compliance on the day of deployment.


Easy. We maintain - you use!
We take care of setting up the ESP solution for you, its management, customization, updates, backup and security. We manage and provide you with historical compliance and risk data that your management and auditors require. We design, test and maintain the technical controls - no scripting or coding necessary on your side. All controls are fully customizable via a point-and-click interface.
We track changes to compliance standards and implement new controls in accordance with the standards' recommendations - so you don't have to. Scale up, scale down, or add new environments as your organization's needs change. With ESP you can provide security compliance assurance any time, anywhere - in the cloud, on-premise, in mixed networks, for multiple OS platforms and cross-organization.

Best-in-class out-of-the-box features:
> Thousands of automated, ready-to-deploy actionable security controls for your security, risk and compliance needs
> Quick deployment of regulatory compliance (PCI, HIPAA, HITRUST, NIST, etc.) cyber security controls across any number of endpoints in minutes
> Assure ease of set up and management - no coding, no scripting, no special skills needed to manage controls
> Define and implement tailored baseline security compliance policies to meet your compliance needs and compliance guidelines
> Automated asset and configuration visibility
> Assure 24/7 system integrity monitoring
> Assure 24/7 network monitoring and discovery
> Measure compliance gap and deliver granular gap reports at a click of a button
> Assure continuous monitoring and reporting on deployed compliance policies
> Recalculate compliance gap based on detected changes on the network or on the endpoints
> Provide an easy-to-use management console for policy administration, documentation, audit purposes
> Implement transparent centralized compliance controls across the organization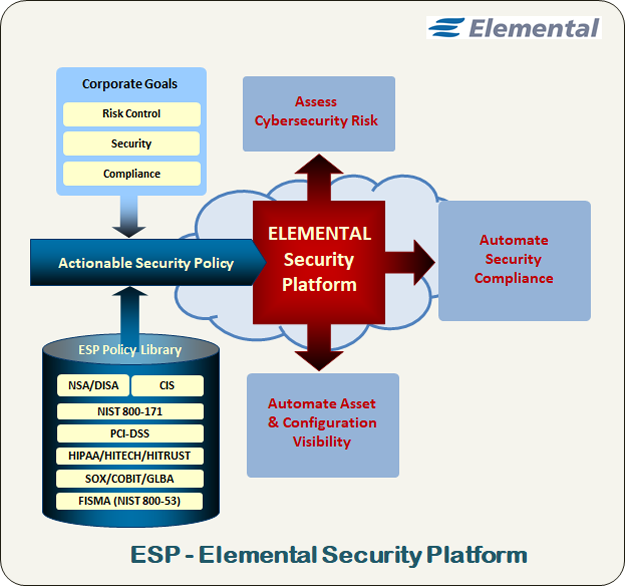 ESP limitless possibilities:
Compliance:
- Implement compliance enforcement plan in accordance with the business needs
- Deliver time-stamped detailed reports demonstrating trends in risk and compliance metrics
- Ensure automated deployment of incident response and containment controls
- Automatically adjust compliance scopes through detection of in-scope activities
- Provide assistance with specific compliance requirements


Security:
- Measure the current security posture against industry benchmarks or internal baselines
- Provide change-adaptive remediation policies
- Provide protection against APT using micro-segmentation and security configuration enforcement
- Implement adaptive micro-segmentation
- Contain lateral movement, increase access security
- Provide a custom-tailored zero-trust networking environment
- Correlate security metrics with compliance and risk metrics for governance and management purposes
- Implement consistent cyber security controls across the organization


Risk management:
- Provide for automated calculation and tracking of cyber risk scores and value at risk for each endpoint
- Automate recalculation of risk levels based on detected changes on the network or on the endpoints
- Apply change-triggered remediation policies to maintain consistent risk levels
- Deliver time-stamped reports demonstrating trends in cyber risk levels
- Implement cyber risk reduction plan following business needs
- Implement in a consistent manner actionable cyber risk management controls across the organization


Other capabilities:
- Classification, organization, and sorting of gathered configuration data using ESP dynamic grouping (labeling) capabilities
- Traffic statistics and forensics for a single endpoint or group of endpoints
- Real-time and historical reporting of compliance, risk, value trends at any level of granularity
- Audit trails for all policy deployments, users and groups creations or enforcement activities
- Automated trouble ticket generation for compliance, security, risk tracking purposes


Any size organization in the Cloud or on-premise
ESP pre-configured controls can be added to any network, regardless of network size, complexity, maturity, or other tools already running. Use only those controls from the ESP library that you need. Download thousands of controls at a time, or pick a dozen that your auditor requires - it is up to you.
Pay as you go, and scale up if necessary. We help to keep the costs of scaling and adding new compliance requirements or new environments as low as possible.


Affordable
ESP provides the lowest most flexible entry cost and predictable pricing in the industry.
No need to hire additional staff for your internal IT or security team.
We implement, support, maintain, customize, and administer hundreds of security controls - so you can keep overall operating expenses (OPEX) under control.
With ESP you can forecast your compliance costs with more accuracy than before.