Elemental Cyber Security Automation and Enforcement Solutions
Elemental Security Platform: the most integrated and capable automation and enforcement solution for cyber security compliance and risk management!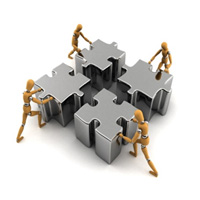 Risk - Security - Compliance beyond GRC!
Only through a comprehensive approach — which combines indepth visibility, automation and control in a single, functionally integrated solution — can organizations quickly and cost-effectively achieve continued alignment between their business goals and their security operations.
---
---
Cyber Security Assurance - Security Policy Management
Keeping track of the myriad changes, and manually checking and rechecking that the right security policies are on the right systems at the right time can introduce errors and is prohibitively time and resource intensive.
The security industry has responded to this dilemma by introducing a dizzying array of products designed to link business-based IT objectives with measurable results. However, these offerings have all targeted very narrow aspects of this enormous challenge. This siloed approach has driven administrators to attempt to manage security policies through organizational integrations, costly and resource-intensive manual workarounds. The result is a policy implementation gap that leaves most organizations exposed to significant risks.
Elemental reduces security threats and risks of non-compliance by making it easy to translate business objectives into well-defined policies, and express these across the network. A well-developed security policy is rooted in best practices.
> Security Policy Management
> Policy Implementation Gap
> Security Posture
> Policy Monitoring
> Policy Enforcement
> Compliance Metrics
> Dynamic Access Control
---
Compliance Automation & Regulatory Compliance
Most industry standards and regulatory compliance frameworks include provisions to protect consumers' personal data or to ensure the efficacy of controls, which has created many demands on IT departments. Meeting the requirements for controls around networks and computers involves providing evidence that documented security controls or policies are effectively implemented and monitored. As a result, all regulatory compliance frameworks require compliance with security standards that include administrative and technical safeguards. Elemental helps provide the breadth of required controls to ensure the availability, confidentiality and integrity of protected consumer data.
> CIS Compliance
> HIPAA-HITECH Compliance
> HITRUST/CSF Compliance
> NIST 800-171 Compliance
> NIST 800-53 (FISMA) Compliance
> PCI-DSS Compliance
> SOC 2 Compliance
> SOX Compliance
> DISA-STIG / NSA Compliance
> ISO 27000 Compliance
> GDPR Compliance
---
Segmentation - Layered Data Protection
With ESP, security administrators can segment their networks with an unmatched granularity based on countless host-related attributes. ESP-driven micro-segmentation allows administrators to create a layered protection implementing access policies designed to contain unauthorized hosts, prevent lateral movement on the network, quarantine internal hosts exhibiting suspicious network behavior, and automatically adjust to change in environment.
> ESP Cloud Security
> ESP Maturity Model
> Adaptive Micro-Segmentation
> Compliance Scope
> Protect Sensitive Data
> Contain Unauthorized Systems
> Role based access control
---
Risk Management & More
The risk and value of systems comprise a critical set of business-aligned metrics that empower IT and security operations to focus their resources on the security issues that present the greatest threat to the business. The comprehensive security controls supported by ESP provide the ability to gauge the risk exposure of systems, their value based on their role in the network, and ultimately their associated loss potential to the business. But Elemental offers even more capabilities with: comprihensive reporting, audit trails, trouble tickets notification or historical traffic statistics for forensic analysis.
> Risk Assessment
> Forensic Analysis
> Compliance History/Trending
> Audit Trails
> Cross Platform Enforcement
> ESP PolicyFUEL